In two hours, our group of 124 packed 155 boxes of a chicken, veggie, soy and rice formula that will feed 91 children one meal a day for one year! We participated in a Feed My Starving Children Mobile Pack set up in a gym and cafeteria at the Villa Maria College campus in Buffalo. It was fascinating to see how the event was organized. Workers were separated into teams to scoop the powder and rice substance into packages, weighed and sealed them, then packed them into boxes. 217 packages in each box are the equivalent of 1,302 meals.
(See pics on facebook)
We know we made a difference in the lives of 91 children. If the packages would have been packed in a factory, we wouldn't have had the privilege of this hands-on understanding of what it takes to combat world hunger. But it also cuts the cost of a huge undertaking, when it is staffed by volunteers.
The formula was developed when a Minnesota businessman realized donations of Western food weren't easily digested by malnourished bodies. He contacted Cargill and General Mills, and their scientists went to work to develop a meal that would provide nutrients and vitamins that could boost a body's healing. The meals are then boiled and distributed as school meals, where children receive nourishment for their minds as well.
A side benefit of distributing meals through the educational system is the increased attendance of girls, who might have otherwise not been allowed to go to school. When families are fed, they are also taught, and that education helps improve quality of life for their villages.
It's amazing to see the before and after pictures of children who benefit from the program. It boosts the immune system and enables the brain to completely develop. It heals the body's ability to combat disease.
I am grateful for the opportunity to participate in such a practical way to help someone in another part of the world. Feed My Starving Children gave us tools to help fundraise and an atmosphere where we could feel useful. And I'm proud of Joyce Schwob for donating a forklift to the day's work. Great job Team Busti and Levant!
Here is a success story from Feed My Starving Children:
Omar is 8 years old. At 19 pounds, he weighs the same as an average 8-9 month old baby.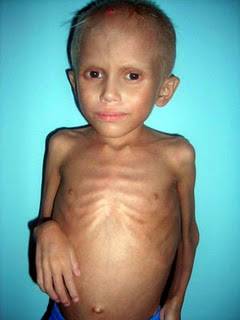 This is Omar after eating Feed My Starving Children Manna Pack Meals for 1 ½ months. He now weighs 33 pounds!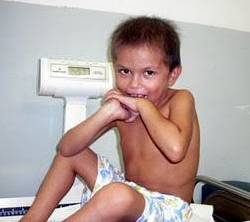 Sally
Related Posts:
How to Help Children on another Continent
The Great Poverty Diet Experiment
Proclaim the Message