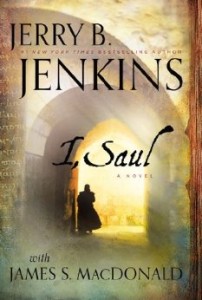 Synopsis (from Amazon.com)
From multi-million copy best-selling novelist Jerry Jenkins comes a compelling international thriller that conveys you from present-day Texas to a dank Roman dungeon in A.D. 67, then down the dusty roads of ancient Israel, Asia, and back to Rome.

A young seminary professor, Augustine Knox, is drawn into a deadly race to save priceless parchments from antiquities thieves and discovers a two- thousand-year old connection with another who faced death for the sake of the truth. I, Saul consists of two riveting adventures in one, transporting you between the stories of Augustine Knox and Saul of Tarsus.

Filled with political intrigue, romance, and rich historical detail, I, Saul is a thrilling tale of loyal friendships tested by life-or-death quests, set two millennia apart, told by a master storyteller.
I, Saul brings humanness to the lives of Paul and Luke. It casts them in a light that enables their story to jump to life. The characterization of each is believable as we follow the dialogue of one who is fiercely loyal to his friend, and the friend, who is wildly passionate about life and love for his Lord.
I, Saul describes Rome in details that offer a glimpse of the conditions afforded to Paul and Luke. Smells, tastes and temperatures all contribute to the image that unfolds throughout the story. At one point, the reader can actually feel the preciousness of hearing the gospel according to Mark, as he reads his handwritten notes to Paul. The Truth penetrates the darkness of Paul's dungeon, and transcends the putrid smells found there with the fragrant aroma of Christ found in His fellowship.
Weaving two distinct stories into one, the authors (Jerry Jenkins and James MacDonald) tackle issues of the heart that have plagued believers since the beginning of time:
Earning God's favor through self-righteousness
Trying to be worthy of God through legalism
Using fundamentalism as a substitute for a relationship with God
Other issues woven throughout:
Broken family relationships
Greed that has overcome honesty
The high cost of integrity
I urge you to get this book. It is a work of fiction that compels the reader to a greater understanding of the zealousness of a persecutor of The Way, who becomes its greatest advocate. Outstanding!
Sally
I, Saul is available to purchase from Amazon.com.
Note: I received this book as part of the I, Saul blog tour from Fiction Addict. I received no compensation for this review and only received a copy of the book for review purposes.
Related Posts:
Book Review: A Love Story, A Murder Mystery, A Work Ethic